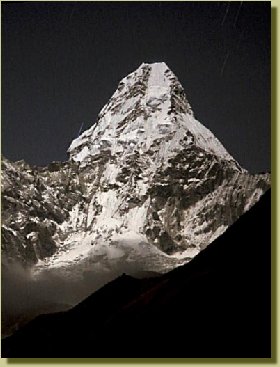 Ama Dablam at moonlight from Tengboche Monastery
.
Ama Dablam, Danish Expedition 1988
Den Danske Himalaya Ekspedition
This news comes to you from Radio Nepal:
"Mr. Soren Allan Smidt and Mr. Bo Belvedere Christensen of The Danish Ama Dablam Expedition succesfully climbed the 6812 meter peak on 11 October. The summiteers stayed about 20 minutes on the summit and reached back to camp 2 at 1600 hour the same day, according to the Tourism Ministery".
This message was the culmination of an idea created by anthropologist and trekking guide Caspar Sutton while trekking in the Everest region with Peter Voldstedlund. If there ever should be a danish expedition to the Himalayas it should go to the most beautyfull mountain, Ama Dablam in the Khumbu region of Nepal. Upon returning to Denmark they asked 6 of the most capable climbers of Danish Mountain Club to join.
Ama Dablam was a perfect choice for us as a first Himalayan mountain. We were good technical climbers but with little or no high altitude experience. Besides been a very spectacular peak located in a fantastic area Ama Dablam offers hard rock and ice at low level easing out the higher we got.
Without going into details the basic fact is that the expedition was very succesfull. The summit was reached by a team of two in pure alpine style (no sherpas) 9 days after reaching base camp. We were the first climbers on top in 2 years. Two more members summited 1 week later. We were a close knitted team and the core group continued later on succesfull expeditions to Dhaulagiri, Broad Peak, Gasherbrum 1 and Everest.
Personally I didn't do too well, which more or less ended my alpine career. I visited Nepal many times since - to be shown in other photo galleries.
A danish extract of our book published on Gyldendal in 1989 is shown here.
The clickable pictures below are best shown with resolution 1024 x 768 pixels and full screen (press F11). All pictures has explanations below.
A late thanks to:
World Expeditions
Ama Dablam Trekking, Kathmandu
Thai Airways
Konica Films
Nutana
Duracell